Can You Launch A Music Career?
Absolutely!
Empower Your Career With These Breakthrough Tools
These resources are NOT available anywhere else, only bundled with Musician Ignition
The Bonus Pack is
5 Powerful Tools
To Ignite your MUSICAL DREAM
Musician Ignition – PDF and ePUB formats

Musician Ignition is unlike any book you've ever read about music career tactics.
No Fluff
No Trendy Advice
No Viral Secrets
Instead, you get life-tested strategies that work.
Musician Ignition can help you clarify your vision, and then create strategies to bring that vision into reality.
BONUS PACK includes BOTH FORMATS:
PDF – $17.00

ePUB – $21.00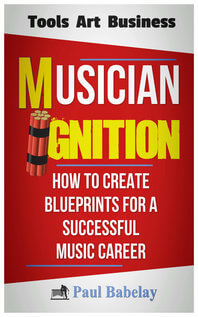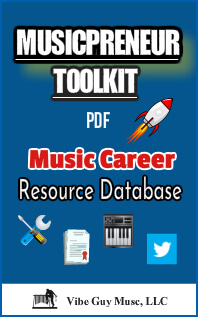 The Musicpreneur Toolkit

The Musicpreneur Toolkit is a directory of the best free, mid-priced and premium tools available for the savvy Musicpreneur.
Discover the best tools to improve your work flow – Accounting, Music reading, Music lessons,  Setting up a home recording studio, Performing & Gigging, Promotion, Graphic Design, EPK design, Website Development & Hosting, Marketing, Social Media strategies , Publishing & Licensing tactics, Business Contracts and much more!
 I accept no advertising or affiliate income from ANY of these companies. They are included only because of quality and reputation.
This all-in-one-location database (with active links) can save you hundreds of hours in looking for the best tools you need to get the job done.
ONLY AVAILABLE HERE!

20 Rules For Music Success

20 Rules For Music Success contains many of the most valuable lessons (or "rules") I've learned in 25+ years of being a full-time musician, husband and father. Even though I have a Master's Degree in music, the most important lessons have come from life – mistakes and all.
A musician schedule is vastly different from other occupations. Learning to juggle business, family and personal life can be hard. These concepts don't just help you succeed in music – but also in life.
Career choices
Setting Goals
Defining Success
Dealing with Fear
Being true to yourself 
These and more issues are discussed with helpful suggestions and experiences.
ONLY AVAILABLE HERE!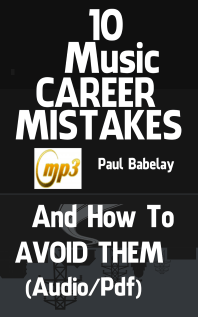 10 Music Career Mistakes – And How To Avoid Them

10 Music Career Mistakes And How To Avoid Them takes you through 12 ( yes – 12, I add two for free) deadly mistakes you must avoid to succeed with music. Some of these misguided actions seem obvious, but evidently they are not since so many gifted artists are making them.
Too many great musicians have derailed their careers with these harmful tactics. Learn why so many instrumentalists and singers never get called back. You can easily change or avoid these mistakes, and start building your career rather than tearing it down.
Every decision you make either hurts or helps your career
Avoid the common mistakes that many unknowingly make
Stop following bad advice and make the best decisions for your unique vision
Note: This includes a 43 minute audio recording/mp3.
ONLY AVAILABLE HERE!
How To Practice Music: 7 Steps To Great Results

How To Practice Music: 7 Steps To Great Results could be a breakthrough for you in tackling the monster known as Practice. You can learn to enjoy it, see the benefits and always know what to work on to reach your musical goals.
These 7 steps will help you develop a plan to grow any techniques required for your musical gig. Many questions will be answered as you learn foundational aspects like…
When?
Where?
Why?
What to do next?
How long?
Now, you can turn this misunderstood and often-dreaded process into your power tool for musical success. This may be the most important skill you develop. It never stops!
ONLY AVAILABLE HERE!

Secure access to the Musician Ignition BONUS PACK today and save $74.00 off the suggested retail price.
After our introductory offer ENDS, we will be shutting this offer down and removing the reduced price.
Now is the time to invest in your future, empower yourself with these musician tools, and work smarter than ever before.
And the amazing thing is…
you can check it out, apply it and try it with NO FINANCIAL RISK.
"Am I CRAZY to include

SO MUCH VALUE

for

SO LITTLE MONEY

?….."
Perhaps…
But I don't want any emerging musician to feel like they don't have what they need to succeed.
And if for any reason you aren't 100% satisfied, it's the best money-back guarantee ever!
No Risk. Nothing to Lose. Everything to Gain.
What are you waiting for?

No hassle. No problem. No risk.
The Best Money-Back Guarantee Ever

If, at any time during the first 60 days, you are not 100% satisfied with Musician Ignition, and/or the Bonus Pack, I will return your money – No Questions Asked!

AND YOU KEEP THE BOOK AND BONUS MATERIAL ANYWAY!
60 Day, 100% Rock Solid Guarantee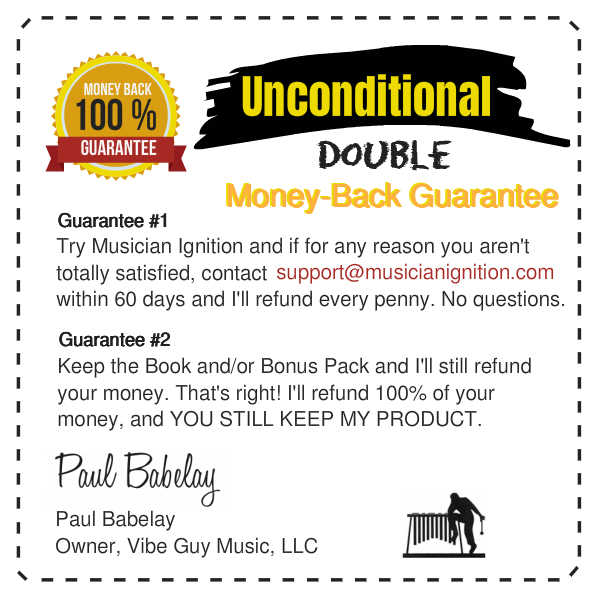 And Don't Forget To Watch The FREE Workshop!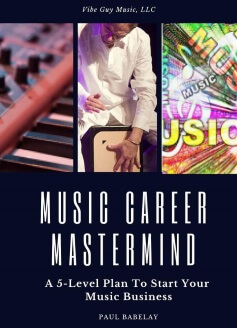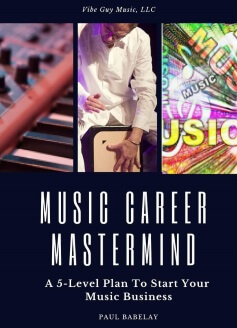 FREE Music Career Workshop
This 40-minute video lesson is a great introduction to preparing for a full-time career in music. The concepts are practical and you can start today.